Fundraisers helps us to raise funds to provide fun and social experiences not covered by the school's limited funding.
Now in stock! Get yours before it's too late…
Get a tea towel with a special edition border for the Queens jubilee. Our tea towels are designed by all children of the Langham Primary School, whereby all children have drawn a self-portrait and are included into the design.
The Langham 10km and Fun Run is an annual event organised by Friends of Langham School (FOLS), a charitable organisation and the Boxted Runners. The route winds through picturesque Constable countryside, and this late summer event is recognised locally as one of the most enjoyable and friendliest….
We hope you will get involved and support us in any way you're able to… by donating your time or money at events, becoming a full committee member or volunteering to help us.
Past Fundraisers & Events
We all have clothing in our wardrobes that we haven't worn in ages! When it comes to a clear out what do you do to make sure the environment comes off best?
Sort through your cupboards and wardrobes and donate unwanted textiles in the bag provided – this can include adults' and children's clothes, shoes (tied together please), hats, belts, handbags, and soft toys,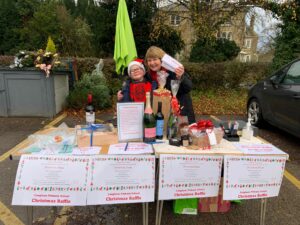 Raffle tickets being sold at Langham's Winter Market.
Attend Meetings Offer Ideas Join the Committee Volunteer your Skills Donate
We hope you will get involved and support us in any way you're able to.
Wether thats by donating your time, your skills, spending money at events or by becoming a full committee member.